I'm sceptical like many others about just how much RP Data's daily house price index is to be trusted, but it's not a stretch to say house prices aren't falling anymore, likewise the stock market is at record heights and even the AUD is being bid up, potentially going to parity again after a double bottom.
The problem with all this, is the fact that Australia's economy has been and still is sinking fast. And now Coles is moving in to sell mortgages – at the peak of the bubble . Doesn't this sound totally absurd? To take this quote from Bullion Barron over at MacroBusiness
We seee you've been buying top quality food over the last few years, you must be a renter to afford that. Would you like to take out a mortgage and make a swap to two-minute noodles like the rest of our mortgaged clients?
The RBA has of course gone full-retard with rates – something I've written about earlier. Low interest rates only lead to speculation and malinvestments, they never achieve any net benefit. As house prices have risen, jobs have dwindled. In fact, in the last quarter, Australia has lost the most jobs in 13 years!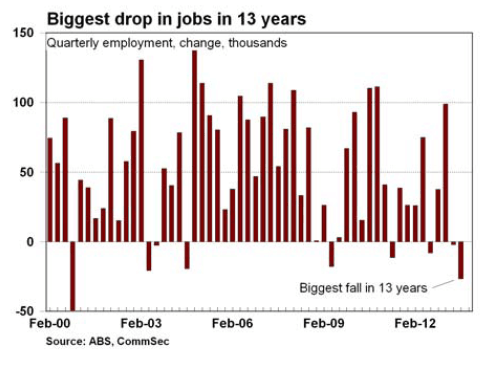 It seems like nobody in the RBA nor government (regardless of party) knows anything about how to run a functioning economy.